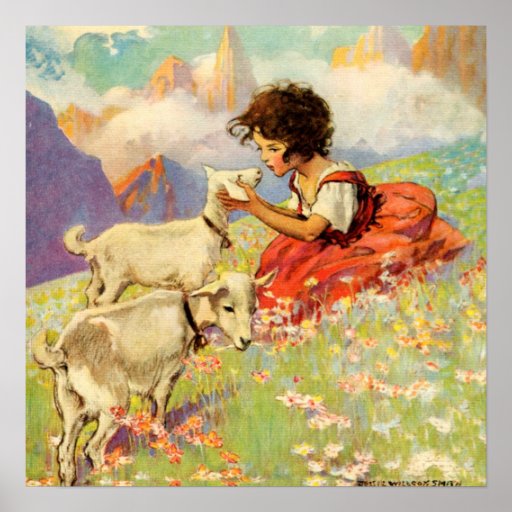 God is good to all of us. He knows what we need better than we do. And just because he thinks it is better not to give you what you want right now doesn't mean he isn't answering you. You shall have what you ask for but not until the right time comes.
Most of us are familiar with the story of Heidi. It is, after all, one of the world's best selling books and perhaps the most well-known works of Swiss literature. Written in 1880 by Johanna Spyri, this classic children's novel speaks of faith, love, the importance of education, and the beauty and freedom of life in the Alps.
The Plot:
After the early death of her parents, Heidi is raised by her aunt Dete until the age of 5. When Dete accepts a new position, she take Heidi to live with her grandfather who has lived in seclusion high in the Swiss Alps for years. At first, Heidi's grandfather resents her presence, but she soon wins him over with her innocence and love of life. She in turn finds peace and happiness playing on the mountainside with Peter, the goatherd, and the goats.
Three years later, Dete returns to take Heidi to Frankfurt to live as a companion to Clara Sesemann, a wealthy girl who has lived as an invalid. Though Clara takes to Heidi instantly, things don't go as smoothly with other members of the household. Heidi's country manners and lack of education mortify the housekeeper Fraulein Rottenmeir and cause no end of trouble between them. Even though Heidi finds comfort in the arrival of Clara's Grandmamma, she still longs to return to her life on the mountain. As more time passes, it seems like that will never hapen.
My Review (Caution - Spoiler):
This story is one that I have been familiar with my whole life, but I haven't ever taken the time to read the original novel until now. The book was originally subtitled "for children and those who love children", and I think that is a very apt description. The simplicity and beauty of the story is enough to warm the heart of anyone who reads it.
I think what really makes this story so beautiful is it's setting. Having been to Switzerland myself, I know that the beauty described is not exaggerated. And Spyri's writing makes you want to live on the mountain to. The fire-like sunsets, the wind whipping through the pine trees, the purity of the air...it is no wonder Heidi and Clara each grow strong and healthy here. Life on the Alm is one of peace, freedom, hard work, and friendship.
Though the characters and plot of the novel are pretty simple, there are still many themes woven into it that are great for children (and adults) to hear. The importance of simplicity and faith in life as represented by life on the Alm. The need for education and human connection as represented by life in Frankfurt and the village. And, perhaps most important, the belief that everything in life is subject to God's timing. That we are in the situations we are in for God's reasons and that no matter where we find ourselves God will bring good out of it. Though Heidi's life in Frankfurt does not bring her pleasure, it ultimately gives her a love for learning and makes a way for Clara to get well.
There is a reason that this story is a classic. It has all of the ingredients to capture the imagination of the young and young at heart. If you haven't already read this story for yourself or your children, don't put it off any longer. Though we are all familiar with it, there is no substitute for the real thing.
The Movie:
Ther
e are dozens of adaptations of this classic story and most people have their favorite. The one I am most familiar with is the 1937 version starring Shirley Temple, Arthur Treacher, and Mary Nash. It has been a long time since I have seen it, but from what I remember it follows the basic plot with some variations here and there. Fraulein Rottenmeir is much more of a villain and the Grandfather has to fight hard to get Heidi back. A classic Shirley Temple film, and a nice adaptation.
The other popular adaptation is the 1993 TV miniseries starring Noley Thornton, Jason Robards, Jane Seymour, and Patricia Neal. I haven't seen this one, but it is one of the more well-known adaptations out there.