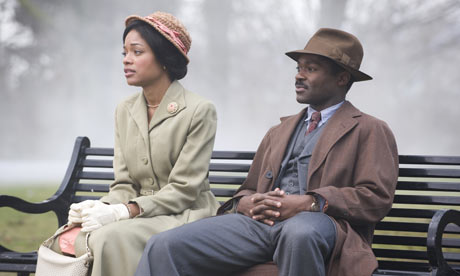 This year's
Masterpiece Classic
season wraps up with a story of love, racism, and dreams in post-war England. Starring Naomie Harris, Ruth Wilson, Benedict Cumberbatch, David Oyelowo, and Ashley Walters, this adaptation of Andrea Levy's 2004 novel tells the story of the intertwined lives of newly immigrated Jamaicans to the "mother country", England.
All of her life, Hortense (Harris) has dreamed of marrying her childhood sweetheart (Walters) and becoming a teacher in England. She can just vision her proper English house with a doorbell and a garden. Unfortunately, life doesn't go the way she expects and WWII puts a halt to her plans. After the war's end, she agrees to pay for a Jamaican RAF veteran's (Oyelowo) way to England if he will agree to marry her and send for her when he is established. He agrees and it finally seems as if Hortense will realize her dreams. But when she arrives, it is not the England of her imagination. Gilbert (her husband) is renting rather run-down rooms from Queenie Bligh (Wilson), whose husband (Cumberbatch) has yet to return from the war. Now, Hortense and Gilbert must battle racism, poverty, and despair to achieve their dreams of a beautiful life in their new home.
Overall, I found this to be an interesting story. The production qualities are on par with most BBC standards and the acting qualities are nothing less than what you would expect from this ensemble cast. Racism is not an issue that us Americans are unfamiliar with, but the affects of colonialism are. It's been over 200 years since we cut our ties with the "mother country", but for many nations this is a fairly recent issue. All of the Jamaican characters were taught from birth that England was basically a home away from home and would offer opportunities to any of her "children" who chose to come. This is, of course, a bit of a pipe dream as most of the English citizens would never consider the colonists to be one of them.
My favorite aspect of the story was the importance of dreams. Hortense expected to step into her dreams when she stepped into England. It didn't happen, of course, but she did what she had done all of her life: she gathered herself together and pressed on towards her goal. I think the house that she and Gilbert get at the end is a perfect example of their story. It is run-down and needs a complete renovation, but it becomes the home of their dreams when they are willing to put the work into it.
I guess that my biggest gripe (aside from the few, um, mature scenes) was the fact that the story seemed to follow Queenie's life more than it did Hortense's. To be a film about the plight of immigrants in a new land, the story seemed to focus more on the problems that the white sympathizers had than on those whom the racism was actually directed towards. I really liked Hortense and Gilbert's relationship and wish that they had gotten a bit more of the screen time that was given to Queenie and her troubles (not that I don't like Ruth Wilson, because I do).
Overall, I guess that
Small Island,
though certainly not the worst adaptation of the season, was just a bit too modern for me. Interesting ideas and solid acting, just not 100% my cup of tea.