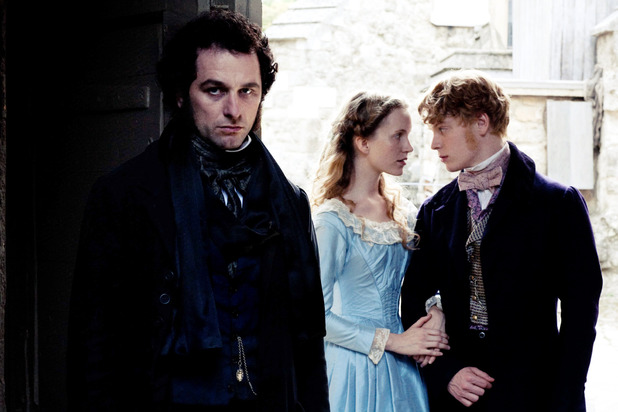 There is nothing to tantalize a reader like an unfinished novel. We are left only with what might have been, imagining our own endings and wondering how a beloved author might have tied up all of the loose ends. Charles Dickens died in the middle of writing
The Mystery of Edwin Drood
, leaving us without a resolution to the supposed murder of a young man. Though we'll never really know how Dickens himself intended for the story to end, BBC and
Masterpiece Classic
have teamed up to bring us an adaptation of this story and their idea of how it might have all turned out.
John Jasper (Matthew Rhys) is a choirmaster in a country cathedral whose monotonous life is broken up only by his routine trips to an opium den. He is also consumed with passion for one of his music students, Rosa Bud (Tamzin Merchant). Unfortunately, she has long been engaged to marry Jasper's foppish nephew, Edwin Drood (Freddie Fox). Fueled by jealousy and opium, Jasper's hatred for Edwin grows until in it culminates in one stormy, feverish scene. The morning after, Jasper can't tell if his evil deed was real, or the workings of a drug induced dream. His nephew is missing, that is sure, but there is no body. Was he killed? Did he leave town? Was there an accident? Is Rosa Bud free to be pursued? The answers will surprise everyone, including Jasper himself.
The main thing that this adaptation has going for it is that not only is it an unfinished work, it is probably Dickens' least read as well. This gives screenwriters and producers much more freedom to and license to play around with the story and not have an army of rabid fans call for their heads. Though it didn't feel a lot like a Dickens story to me, it was certainly a fairly riveting one. Matthew Rhys gave an intense and emotional performance as Jasper and was really the main force behind the series. His desire for Rosa and his jealousy of Edwin are almost palpable. The other actors all hold their own as well and rounded out the characters perfectly. All of the other production qualities hold up to BBC standards as well an make for an enjoyable evening.
Though this is not as in-depth as other Dickens' stories, it is still one that will leave you guessing to the very end. I enjoyed it, and would watch it again.