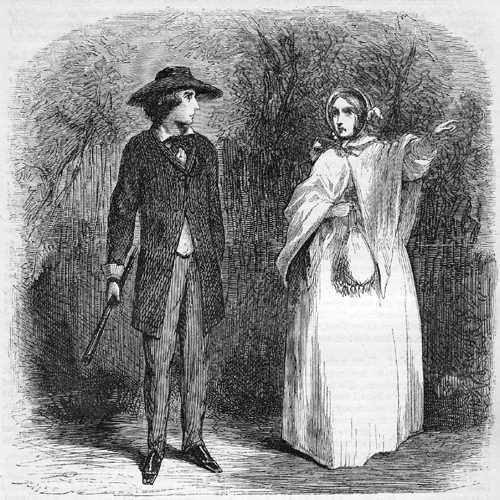 "Any woman who is sure of her own wits, is a match, at any time, for a man who is not sure of his own temper."
In 1859, Charles Dickens' magazine
All the Year Round
began publishing a serialized story that would grip the imagination of the country. Though some critics dismissed it, readers devoured it, and even Prince Albert himself loved it so much that he gave copies out as gifts. It became an instant hit and would go on to be the first (and most would say, best) of the "sensation fiction" genre. Even 150 year later, Wilkie Collins captures the imagination with his masterful storytelling.
The Plot:
Walter Hartright is a young art teacher living in London. While walking out late one night, he meets a mysterious young woman dressed completely in white who seems to be in great distress. He helps her on her way, but soon afterwards learns that she has escaped from an asylum. Soon after, he accepts a position as drawing master to one Mr. Fairlie's niece, Laura Fairlie, and her half-sister, Marian Halcombe. Both Laura and Marian immediately take to Mr. Hartright, and he soon finds himself falling for gentle and beautiful Laura. Marian eventually learns of this (as well as Laura's growing love for him) and informs him that the whole thing is impossible as Laura is engaged to be married to the man her late father chose for her, Sir Percival Glyde. Mr. Hartright leaves and determines to forget her.
Laura also tries to move on and be happy with Sir Percival, but things begin to go horribly wrong. Sir Percival reveals himself to be far from the kind and decent man he had appeared, and the arrival of his mysterious friend Count Fosco only heightens the tension. As things come to a head, Marian seeks to protect her sister, but is herself caught up in the mystery that surrounds Sir Percival. Will they ever discover his secret? And what does it all have to do with the ghostly woman in white?
My Review (Caution - Spoilers):
Having already read (and loved) Collins' The Moonstone, I was more than ready to tackle his other famous work. Not to mention, it was also
highly recommended by many of my friends. So did it live up to the hype? Absolutely.
The wonderful thing about Collins is his ability to tell a story. Though the novel drags a bit in the beginning, once the mystery gets started you simply can't put it down. Using multiple narrators, Collins manages to keep the story going without giving anything away. And though there are plot points that seem very familiar now that we are 150 years away, the overall tone of the book remains very sensational and Gothic. You can't help but get caught up in the fate of the characters. So often I would find myself almost having a panic attack as the danger for the hero/heroines increased. I would almost scream "Look behind you!" or "Don't post that letter!" or "He's watching you!". It was almost like watching a horror movie at times. It was all deliciously suspenseful and very well-done by Collins.
What I didn't expect from this novel was how much Collins champions the rights of women. It almost seems like the greatest Victorian feminist novel was written by a man! Most of the problems the two heroines face is due to the fact that women have no real legal rights. Laura's selfish and indolent uncle takes no measure to provide for the security of her fortune. This leaves her vulnerable to men like Sir Percival and Count Fosco. Collins also does a fantastic job of creating a real flesh and blood woman in the form of Marian Halcombe. Though Laura is the traditional Victorian beauty and a catalyst for the story, Marian is the real heroine. She has confidence in herself, knows how to use her wits, and is willing to do anything to protect those she loves. It is no wonder that by the end of the novel she has gained the admiration of all those around her, even her enemy.
This is a must read for anyone who loves Victorian novels or a great crime/mystery story. Collin's storytelling is top notch and his characters are some that you will not soon forget. Do yourself a favor and add this classic to your "TBR" pile. You won't regret it!
The Movie:
This story has been adapted into a few films/miniseries. The first is the 1948 version starring Gig Young, Eleanor Parker, Alexis Smith, and Sydney Greenstreet.
The other is the 1997 BBC miniseries starring Andrew Lincoln (The Walking Dead), Tara Fitzgerald, Justine Waddell, and James Wilby. Unlike most BBC miniseries, this one didn't really do the book justice. See it if you want, but it is no substitute for the original.