On Monday it's Valentines Day here in the US, which means love is in the air! Many of us have been talking about love all month, but I thought it would make a perfect Weekly Geek-ish type assignment to suggest a post that included anything about love that moves you.
Over the last couple of years, I've made it a Valentine's Day tradition to highlight some of my favorite
literary
couples
and why their stories resonate with so many people all around the world. Here are some more of my favorite love stories found at your local library...
Captain Horatio Hornblower & Lady Barbara Wellesley from the
Hornblower Series
by C. S. Forester
At the beginning of the book
Beat to Quarters,
these two characters come from such different worlds that it is hard to ever imagine them getting together. But when two people are thrown together on the high seas in the middle of a war, sparks are bound to fly. Unfortunately, reality hits them once the trip is over, and love and passion must give way to duty and honor. It's a classic love story set in the middle of one of the most exciting periods for the British Navy, plus it gives me a great reason to post a picture of Gregory Peck!
It all might have come right in the end. If the calm had persisted for two or three days, so that Lady Barbara could have forgotten her wrath and Hornblower his doubts, more might have happened.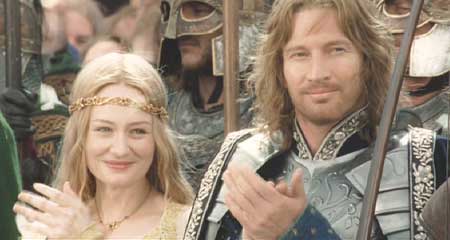 Faramir & Eowyn from
The Lord of the Rings
by J. R. R. Tolkein
I know that a lot of
LOTR
fans are more into the whole Aragorn/Arwen romance, but not me. I love seeing this beautiful and strong young women who has experienced so much pain in her life end up with the coolest guy in the book. A fitting end for the pair whose bravery helped defeat the armies of Sauron.
"Then, Eowyn of Rohan, I say to you that you are beautiful. In the valleys of our hills, there are flowers fair and bright, and maidens fairer still; but neither flower nor lady have I seen till now in Gondor so lovely, and so sorrowful. It may be that
only a few days are left ere darkness falls upon our world, and when it comes I hope to face it steadily; but it would ease my heart, if while the Sun yet shines, I could see you still."
Arthur Clennam & Amy Dorrit from
Little Dorrit
by Charles Dickens
Dickens' novels are full of interesting, quirky, and fun couples, but so far I've found none to beat Arthur and Amy. After years of neglect and harshness from his own family, Arthur finds a woman who is more than willing to give him her support and devotion. And after spending her entire life looking after the needs of others, Amy finds a man who seeks to take care of her and truly recognizes and appreciates her strength and tenderness. And after reading 800+ pages the reader gets to see the couple we've been rooting for come together. It's a winning situation for everyone!
"I have nothing in the world. I am as poor as when I lived here. When papa came over to England, he confided everything into the same hands, and it is all swept away. O my dearest and best, are you quite sure you will not share my fortune with me now?"
Ray Singleton & Olivia Dunne from
The Magic of Ordinary Days
by Ann Howard Creel
It wasn't a marriage that either of them saw coming, but life's harsh circumstances bring together an educated city girl with a quiet country farmer. Against the backdrop of WWII, Ray and Livvy struggle to overcome grief, shame, fear, and loneliness and in the process discover a love that is as beautiful as it is ordinary. This is such a poignant and touching story that highlights what true love is all about.
"In the past, I would've listed things such as common interests, mutual attraction, worldliness, and higher education. My freedom above all else. If I had found love, it would have had to be the kind that overwhelmed and overpowered all else."