It's Valentines Day! Time to celebrate with roses, candy, champagne, and kisses. If you've been following my blog for awhile, you'll know it has been a tradition over the last
few
years
for me
to highlight some of literature's most enduring couples. Here are this year's picks:
Fancy Day

and

Dick Dewey in Under the Greenwood Tree by Thomas Hardy
You can't usually look to a Thomas Hardy novel for a couple who happily end up together in the end, but this is one of them. Fancy's father had much higher expectations for his daughter's marriage, and Fancy herself wasn't sure if life in the village as a poor man's wife was what she wanted. But the sweet and simple Dick win

s her heart and convinces her that a simple life with the one you love is better than any amount of riches.
"Come here, sir;--say you forgive me, and then you shall kiss me;--you never have yet when I have worn curls, you know. Yes, just where you want to so much,--yes, you may!"
Marianne Dashwood and Col. Brandon in Sense and Sensibility by Jane Austen

Col. Brandon was smitten the first time he saw her, but it took a long time for Marianne to see what an amazing person he was. Impulsive and romantic, Marianne learns the painful lesson that steadfastness and constancy mean more in a relationship than "romance". Readers the world over rejoiced to see her find happiness in the arms of a man who truly loves her.
Marianne Dashwood was born to an extraordinary fate. She was born to discover the falsehood of her own opinions, and to counteract, by her conduct, her most favourite maxims. She was born to overcome an affection formed so late in life as at seventeen, and with no sentiment superior to strong esteem and lively friendship, voluntarily to give her hand to another!- and that other, a man who had suffered no less than herself under the event of a former attachment, whom, two years before, she had considered too old to be married,- and who still sought the constitutional safeguard of a flannel waistcoat!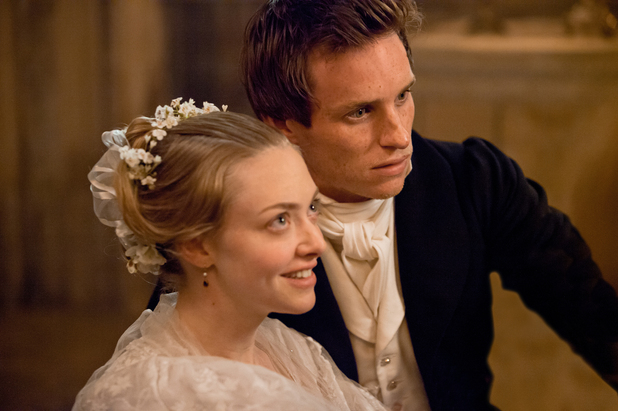 Marius Pontmercy and Cosette in Les Miserables by Victor Hugo
It didn't take words for these two to fall in love, just chance glances while walking in the park. Though it seems that circumstances and the tumultuous life of revolutionary France will keep them apart forever. But Cosette's "Papa" Jean Valjean discovers their attachment and eventually gives his aid to bring them together. Happiness and hope are found at the end of this dark and tragic novel.
On the day when a woman in passing sheds light for you as she goes, you are lost, you are in love. There is only one thing to be done, to fix your thoughts upon her so intently that she is compelled to think of you.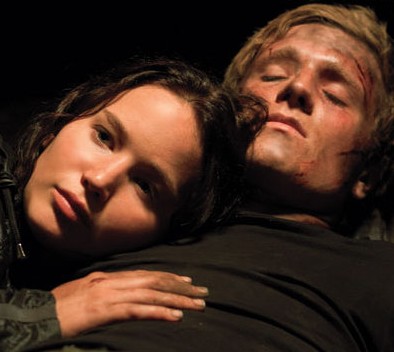 Katniss Everdeen and Peeta Mellark in "The Hunger Games" Trilogy by Suzanne Collins
Katniss has always been a survivor, life has demanded that of her. But her time in the Hunger Games proves that sometimes you can't depend solely on yourself. You need someone to be your support when you feel like you can't go on. This is what Katniss and Peeta are for each other...a piece of safety and reality in a world gone mad.
"My nightmares are usually about losing you," he says. "I'm okay once I realize you're here."
What are your thoughts on these couples? Do you have other favorites? Celebrate the day with us and share your favorite romantic moments in literature.
Picture Credit:
#1 Keeley Hawes and James Mu

rray in

Under the Greenwood Tree
#2 Kate Winslet and Alan Rickman in Sense and Sensibility
#3

Amanda Seyfried and Eddie Redmayne in Les Miserables
#4 Jennifer Lawrence and Josh Hutcherson in The Hunger Games